About This Project
YOUR BAY SIDE RETREAT
Melbourne is one of the world's most vibrant and pleasurable places to live, work, and study. But no matter how much fun you're having, you always need somewhere to come back to.
There's a reason these luxury apartments in Highett are called The Haven. Though close to transport and the convenience of the Highett Road shopping village, they're tucked around the corner in a quiet, no-through road. So, after getting off the train and grabbing groceries from the supermarket on the way, you can make a quick getaway to the comforts of home after a hectic day.
It's not all about the indoors, though: The Haven is just eight minutes' drive from the Sandringham Yacht Club and long stretches of beautiful beachfront. The area is also dotted with numerous parks and recreation facilities—even a golf club. Set yourself up in this sought-after bayside location and you'll never want to leave.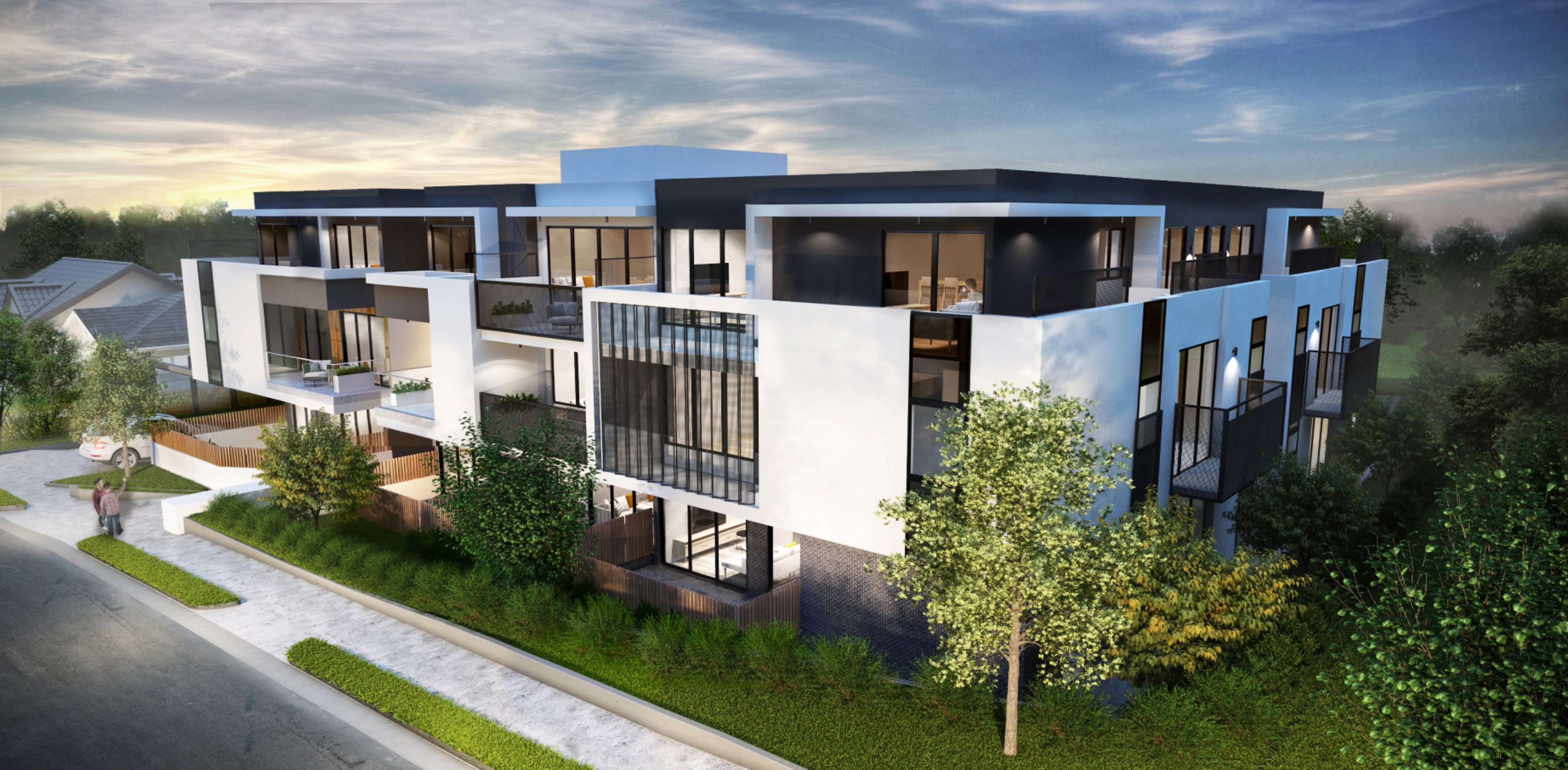 FALL IN LOVE 
–– Enviable bayside lifestyle
–– Stylish contemporary architecture
–– Local shopping village offers everyday convenience
–– Up-and-coming area
–– Off-street parking
–– Easy access to roads and public transport
CUTTING-EDGE CONTEMPORARY STYLE
The Haven apartments are designed by Taouk Architects, specialists in the creation of contemporary homes and luxury apartments. Their philosophy is to blend form and function, producing homes that are not only beautiful to look at, but beautiful to live in. From the outside, The Haven apartments is bold, modern, and stylish. From within, it's whatever you want it to be.
WELCOME HOME
–– Architect-designed
–– Landscaped surrounds
–– Premium exterior finishes
–– Stunning contemporary style
–– Quiet cul-de-sac setting
EASY, JOY, FULL LIVING
The apartments of The Haven are each appointed in sophisticated, luxurious finishes that will instantly create a sense of home while leaving you plenty of room to express your own distinctive style.The location and design afford privacy, but also the freedom to spread out and entertain in accommodating open-plan living and dining areas. Choose a one, two, or three bedroom configuration to suit your current lifestyle and future aspirations. Every detail has been calculated to bring ease and joy to your everyday life.
BEAUTIFUL, INSIDE AND OUT
–– Interiors by award winning firm Studiomint
–– Choose from one, two or three bedrooms
–– Your choice of a light or dark colour scheme
–– Carparking to every apartment
–– Reverse-cycle air conditioning to all living areas and bedrooms
–– Stone benchtop
–– Quality floorboards
–– Bosch appliances
BAY SIDE BLISS
Drive just ten minutes from your car space at The Haven, and you're at the beach. This is one of the most coveted parts of Melbourne life. From Sandringham Yacht Club to the brightly coloured bathing boxes at Brighton Beach, this area is immersed in the great Australian tradition of beachside living. Add the many parks and sporting facilities nearby, and you've got a recipe for a
healthy lifestyle based on outdoor, active recreation. Well-being is about taking care of mind, body, and soul. At The Haven, you'll have it all under control.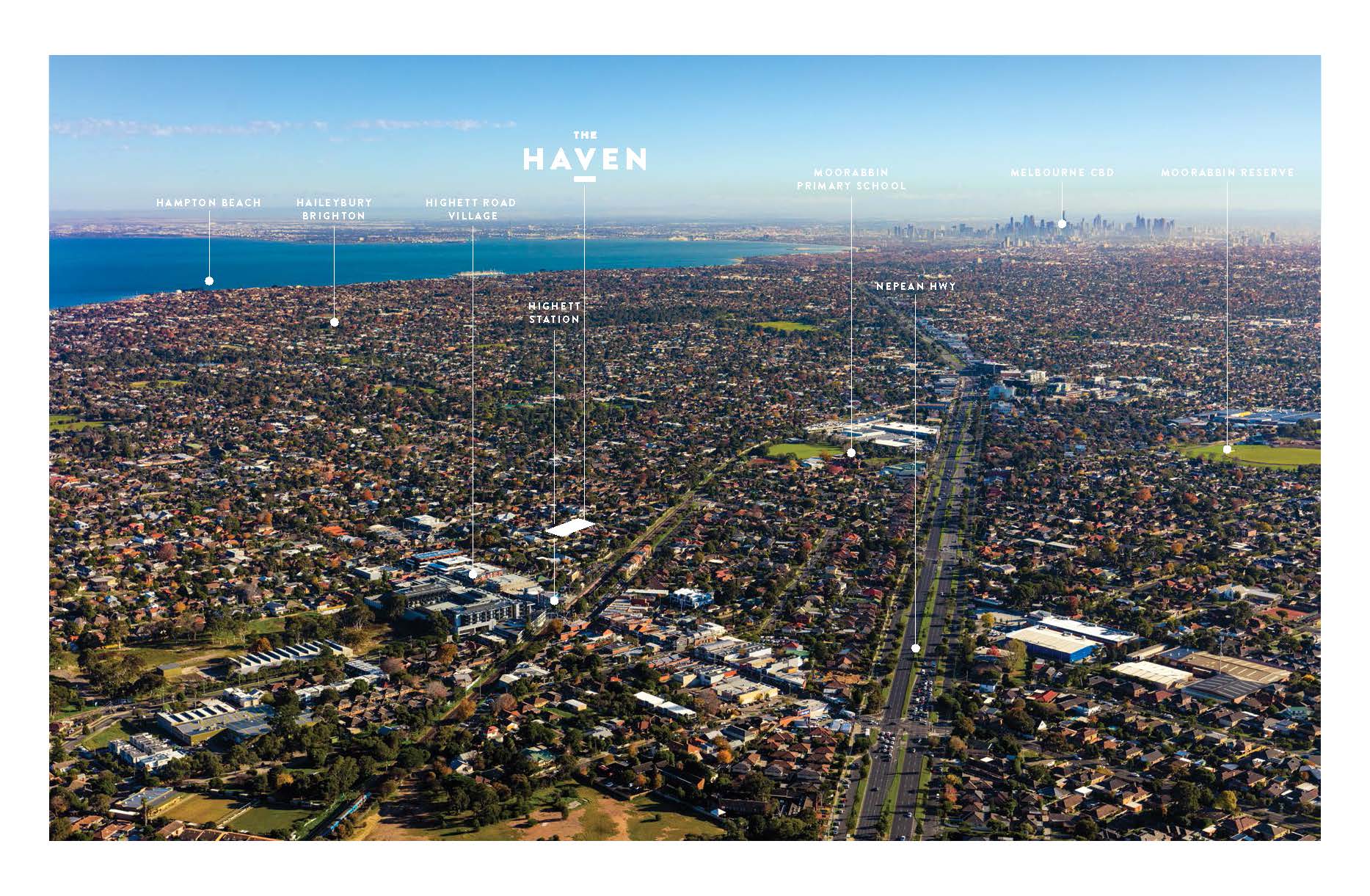 IN YOUR BACKYARD
–– Numerous beaches nearby
–– Pristine outdoor environment
–– Enviable, world-renowned lifestyle
–– Healthy, active recreation
TIME FOR A SEA CHANGE
Highett is one of Melbourne's up-and-coming areas. On the bay side of the Nepean Highway, which runs all the way to the foreshores of the Mornington Peninsula, it's just a short drive from the waters of Port Phillip Bay and some of the world's cleanest, most natural beaches. At the same time, it offers access to the best of Melbourne's renowned city and suburban lifestyles. Transport is incredibly convenient, with Highett train station just three minutes' walk away, and the highway running straight to town. And wherever your day takes you, on your way out, you'll pass through the Highett Road shopping strip. Giving you a taste of the city's famous cafe and restaurant scene, it's your local village: a source of everyday convenience and connection with the local community.
THE NEXT BIG THING
–– Up-and-coming area
–– Just ten minutes from the beach
–– Convenient access to transport
–– Cafes, restaurants, and daily shopping on your doorstep
DON' T MISS THE CHANCE TO DISCOVER YOUR HAVEN
New apartments that mix bayside and urban living like The Haven don't come along every day. This is an unmissable opportunity to grab part of one of Melbourne's best-kept secrets before everyone else catches on. With its high design values and enviable location, these apartments are sure to be in high demand. To find out more and secure your place today, please contact your sales agent.